How to Blab like a Pro
Having a Blab.im or a Twitter account is not necessarily required to watch the webinar. However, if you want to join the live discussion by taking a video seat, or posting and reacting to chat messages, you do need one. So, to be fully prepared, and to be able to enjoy the webinar to the fullest, create your free Blab.im account now. Below is how, and some more tips to make your Blab a Blast.
How to get started on Blab.im
Blab is available online (no Safari functionality, but Chrome works fine) and as a mobile app for iOS in the App Store.

Use the same account for Blab as you do for Twitter. Just log in and you're ready to go. If you want to change your bio or notifications, click on your photo and select Settings. Don't you have a Twitter account yet?

Here

is how to get one in seconds (choose the language of your preference in the top right corner of the page).
Tips in advance
Especially when it 's your first Blab, it is advisable to log on at least fifteen minutes prior to the start already and check if everything is working properly.

Use headphones for best sound. These may include the ears of your smartphone.

If you want a say live, you need a webcam. If you just want to watch and listen, a computer or smartphone that allows you to savor YouTube videos will do.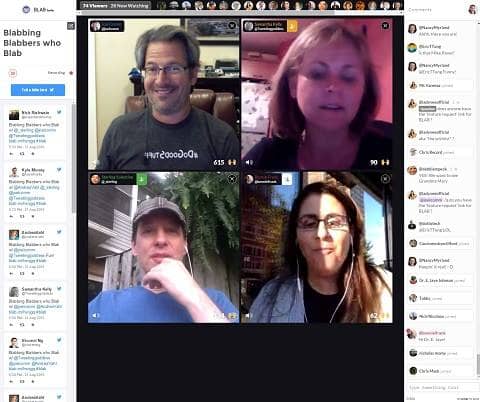 Questions and interaction
The people who are in the video seats can ask live questions via the video stream. During the webinar a maximum of four video seats will be made available at the same time.

The moderator is in control of who is in what seat at what time. If you want to join the video discussion live, just click the 'Join' button when it appears in the center of your screen and wait for the moderator to let you in.

Every participant that wants to ask a question can enter that in the chat column at the right hand side of the Blab page. To mark your question as a question, in order to make it stand out so people will notice it and to make it appear under the question tab in the comment bar, start your question with either typing /q or /question.

To reply to another participant's remark or question, click on the tiny arrow that appears after his or her name when you hover over it. After @name appears you can start typing.

Every participant that has a Twitter account, can send tweets from the Blab page directly (click on the blue button on top of the left column).